The payment is done by PayPal official site. We do not store your credit card number
The payment is secure under SSL with 128bit encryption (Learn more about PayPal Encryption ).
With PayPal you also have fraud insurance (Learn more about PayPal Buyer Protection).
Don't have a PayPal account? No Problem.

Click the "Proceed to Checkout button" button

On Paypal login page, Click the "Continue" link of "Don't have a PayPal account".

Then you can pay securely using your credit card.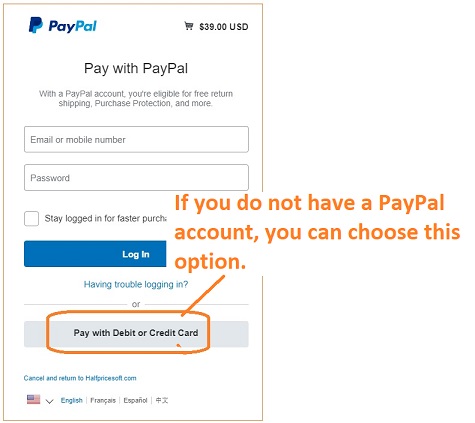 ---
License Key
Our system will send the license key to your email account once the transaction is completed. Usually, you can get it in 1 to 5 minutes depending on how often your mailbox is updated.

Some mail servers may block messages sent by machine. If you cannot find the key in your Inbox folder or Junk Mail folder after one hour, please contact us at services@halfpricesoft.com. We are glad to send the key to you manually.
---
About the CD
The software on the CD is the same as the one you download from our site. The CD option does not include the license key. If you can download this software from our site, you do not need the CD. You can just purchase the license key.

The CD is for the users who cannot download software or who wants to keep a hard backup copy.